About Us
The Technology Innovations in Therapy and Imaging Graduate School will foster the next generation of scientists in the field of innovative image guided therapies and interventions.
The aim of the program is to provide an intensive, research-oriented training in which the students acquire the knowledge in the fields of medicine, electrical engineering, physics, computer science, mathematics and other natural or engineering sciences, and to deepen and expand the skills in the field of Technology Innovations in Therapy and Imaging.
The main focus of the training is on minimally invasive therapy, image guided surgeries, catheter technologies, innovation generation, technical translation and transfer. The transfer of expertise includes the theoretical, methodological and experimental bases for scientific work and promotes the ability for practical, research and teaching-related fields of activity along with sound soft skill development.
Curriculum
The minimum requirements to be awarded a PhD degree are as listed below: 
Minimum course duration – 3 Years
3 Journal Papers- First Author (Max. 1 as review)
3 Conference Papers- First Author
1 Patent > 33% share
1 successful research proposal
Social engagement activities
Lectures, Team Meetings & PhD Meetings – Total of 300 hours
Industry/ Clinic cooperation,
Focus groups (DGBMT, DIN, IEEE, etc.)
Organization of events (Conferences, student trips)
Ancillary responsibilities
Students at the 51st Conference of the German Society for Biomedical Engineering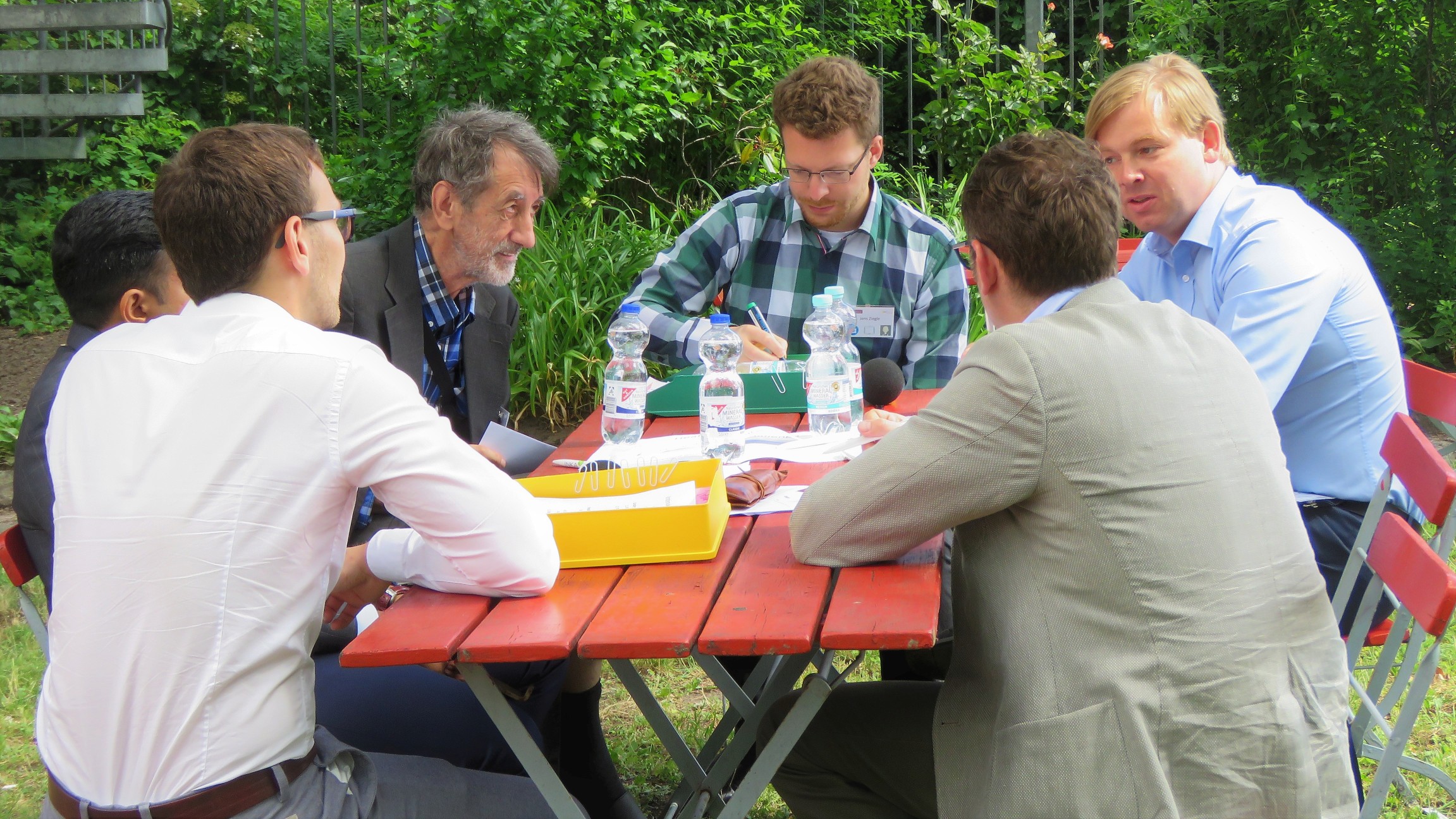 Working session at the 5th BME- IDEA conference, Magdeburg
Ultrasound demonstration at the Lange Nacht der Wissenschaften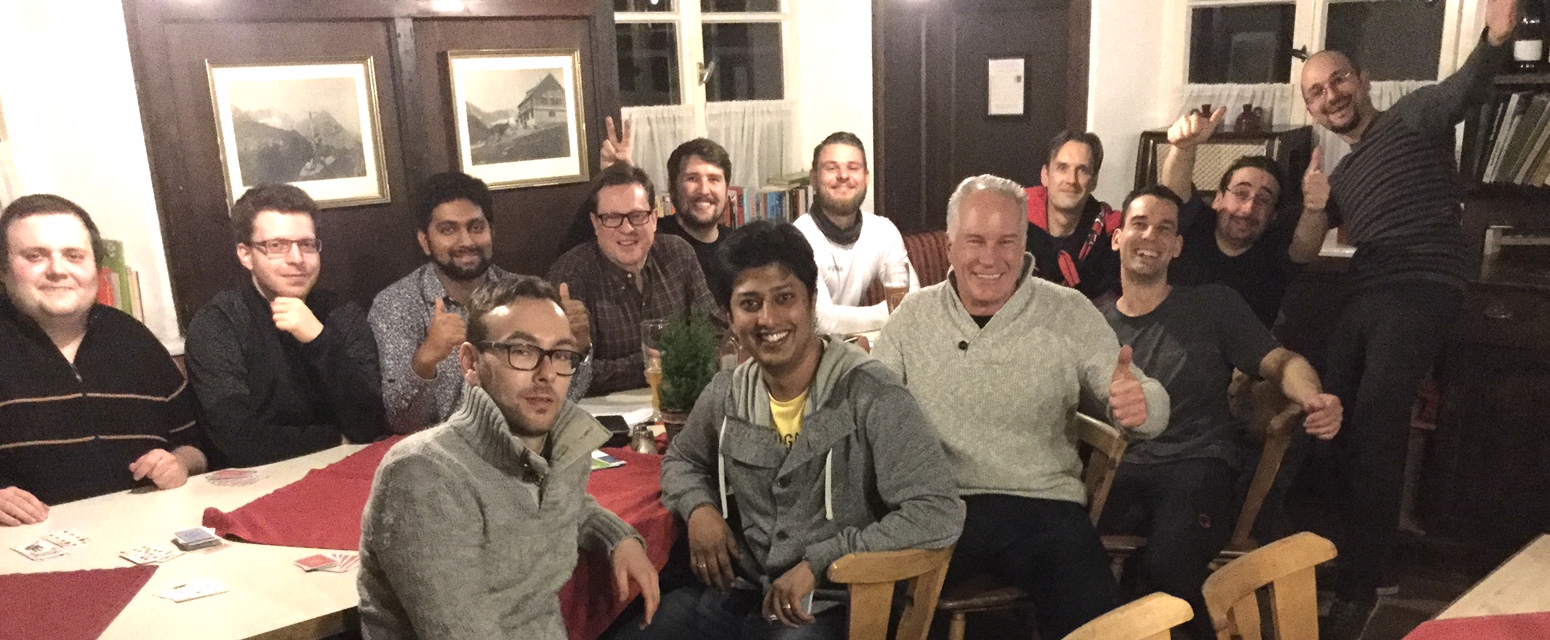 Student trip to Garmisch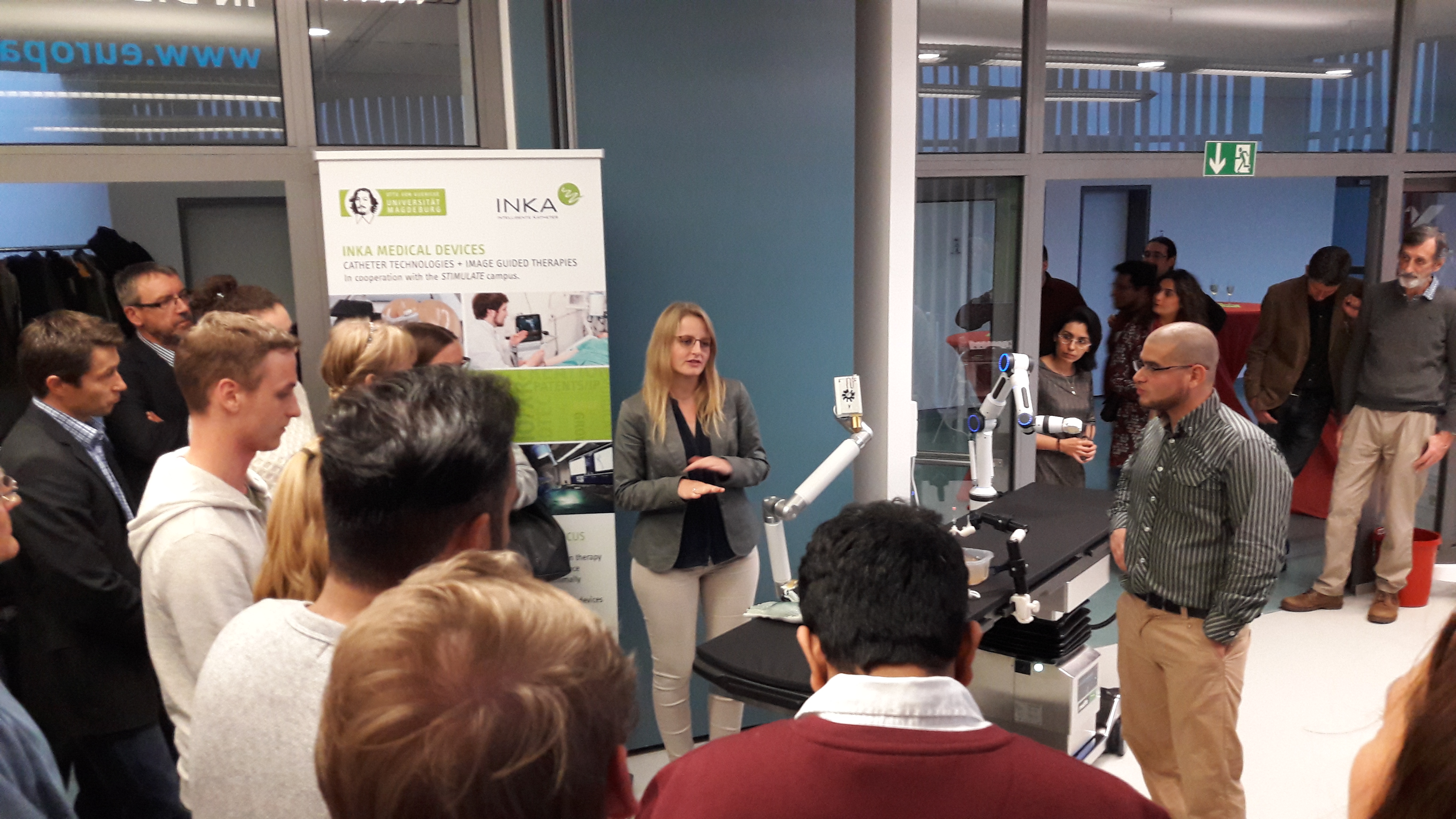 Student poster presentation at InnoLab opening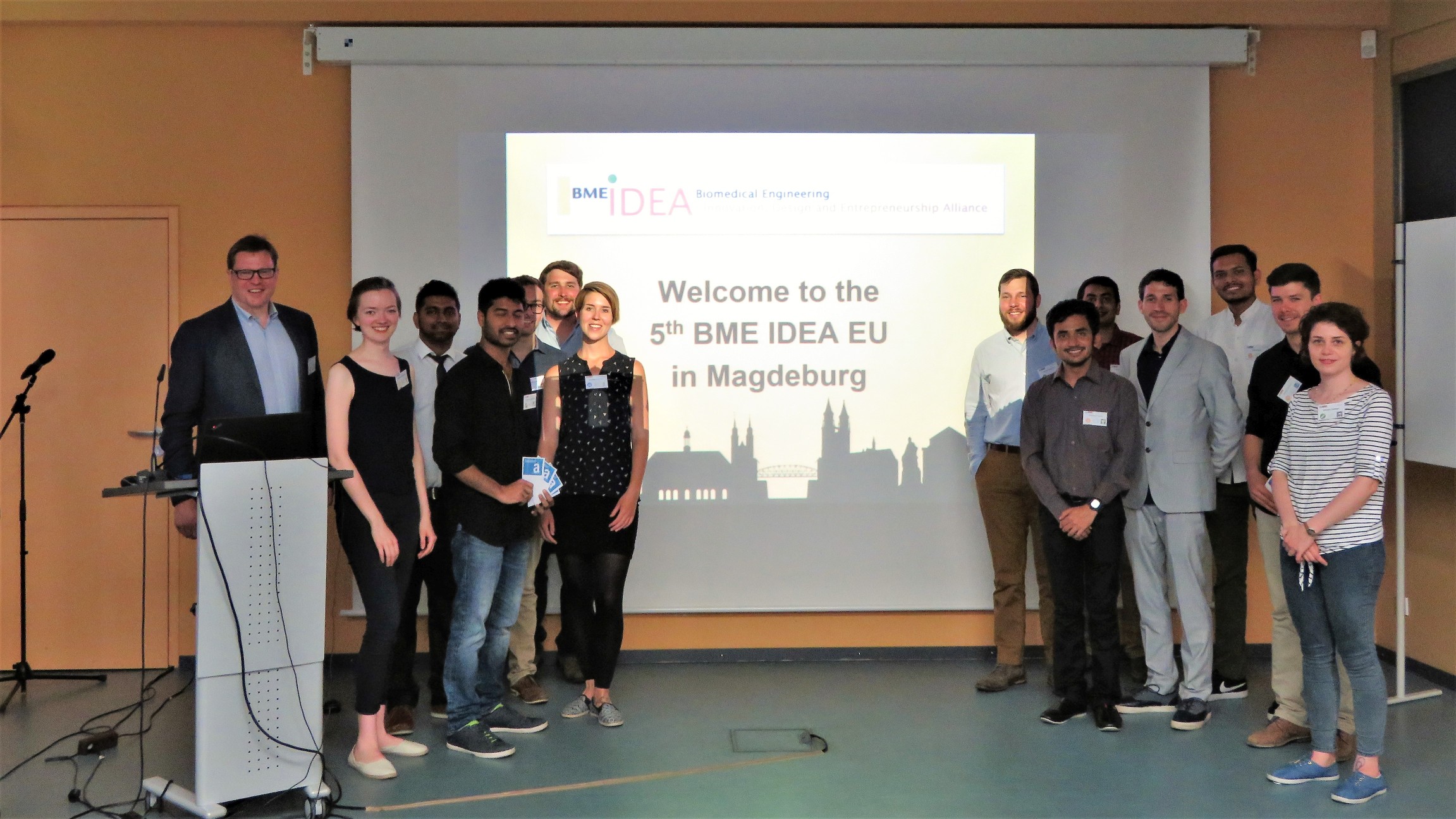 Winners of the poster presentation at the 5th BME-IDEA conference, Magdeburg
Co-operations and Projects
Clinical Co-operations
Following are the clinical departments that the graduate school is currently co-operating with
Prof. Dr. med. Hermann-Josef Rothkötter, Dean of Medical Faculty, Department of Anatomy, Med-Uni OvGU
Prof. Dr. med. Maciej Pech, Department of Radiology and Nuclearmedicine
Prof. Dr. med. Michael Kreißl, Department of Radiology and Nuclearmedicine
Prof. Dr. med. Frank Fischbach, Department of Radiology and Nuclearmedicine
Prof. Dr. med. Christoph Arens, Department of Otolaryngology
Prof. Dr. med. Christoph H. Lohmann, Department of Orthopedic Surgery
Prof. Dr. med. Roland S. Croner, Department of General, Visceral, Vascular and Transplant Surgery
Prof. Dr. med. Martin Schostak, Department of Urology
Prof. Dr. med.Peter R Mertens, Department of Nephrology
Prof. Dr. Dr. Johannes Hayäck, Department of Pathology
Industrial Co-operations
Following are the industrial partners that the graduate school is currently co-operating with
Brainlab
GBN Systems
General Electric
IDTM GmbH
ITP GmbH
Nano4imaging
Olympus
PIUR Imaging
Projects
Thyroid texture classification
Novel tracking methods for minimal invasive surgeries
Intelligent sensor based monitoring for orthopedic medical implants
TLC breast scanner
Diagnostic decision support system for thyroid diseases
Ultrasound and handheld gamma camera fusion
Phantomless ultrasound probe calibration
Photodynamic therapy
Otto-von-Guericke University
Gebäude 53
Rötgerstraße 9
39104 Magdeburg
Saxony-Anhalt
Germany
Univ.-Professor
Dr. Michael Friebe
Dipl.-Ing., M.Sc.
email: michael.friebe@ovgu.de
Holger Fritzsche
PhD Student
email: holger.fritzsche@ovgu.de
Elmer Jeto Gomes Ataide
PhD Student
email: elmer.gomesataide@ovgu.de